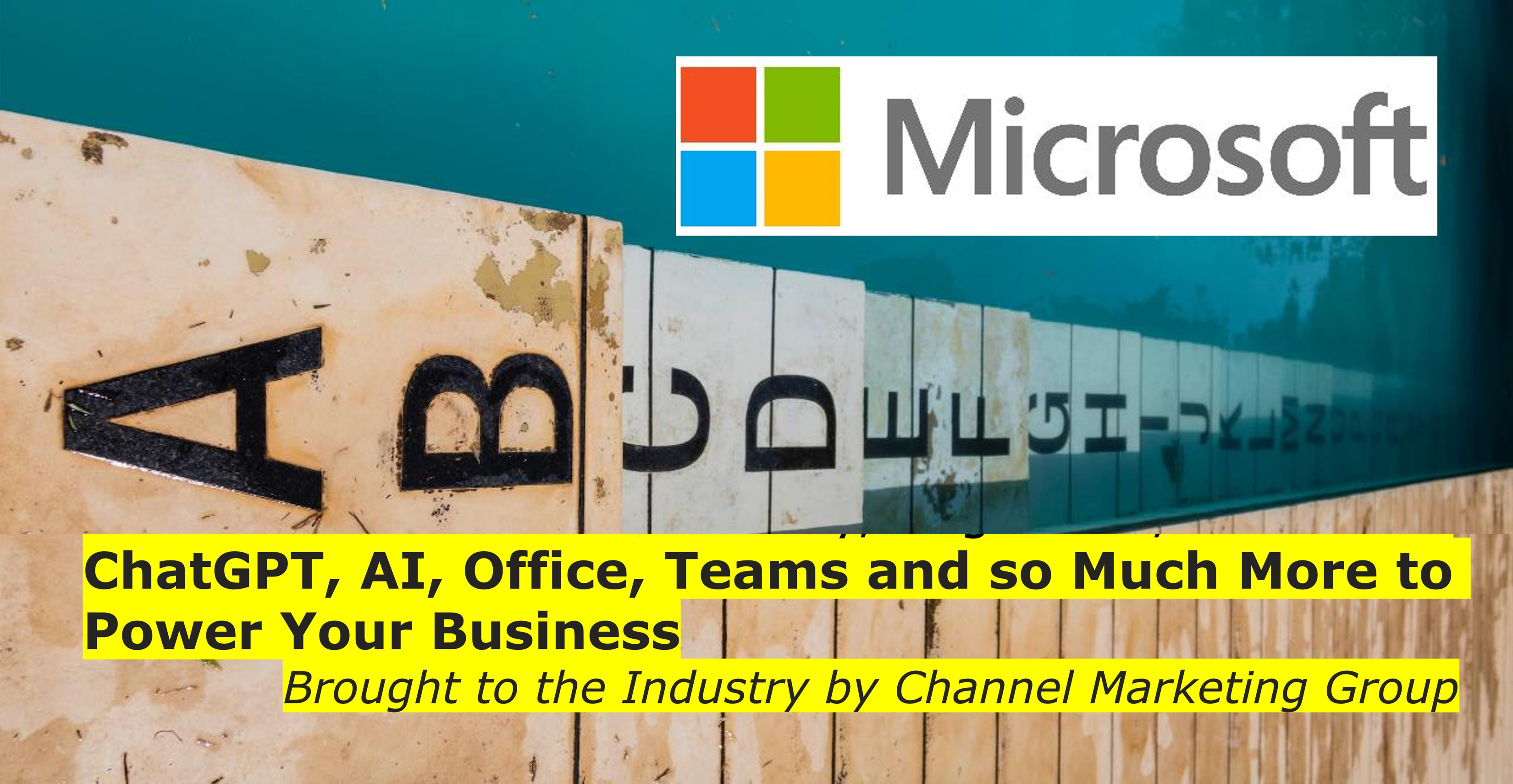 On August 22nd Channel Marketing Group hosted a poolside chat with Microsoft's Matt Petersen. The session was titled "ChatGPT, AI, Office, Teams and More Technology to Power Your Business. Within minimal promotion and advance notice, and the support of NEMRA, Edison Report and Electro-Federation, we had over 200 people register and over 110 connections on the webinar … thank you.
Matt's not a Microsoft salesperson but one of his spheres of responsibility is wholesale distribution (which hence includes distributors, reps and manufacturers). And Matt's a long-time friend who I've known for twenty plus years in the distribution industry. So he knows the dynamics of our industry.
With much being discussed about "digital transformation" in the HVACR industry, I thought it apropos to talk to the one software company that essentially ever company uses somewhere in their business … Microsoft.
And, this is the company that has accelerated discussion, and usage, of AI over the past year through the commercialization of ChatGPT, the integration of AI-features into various Office tools and is bringing to market tools such as CoPilot and virtual agents that help streamline processes, improve productivity, drive sales and enable scalability.
We structured this as a poolside chat as, after all, it was the end of the summer and Matt and I chatted … very limited presentation.
We hope we provided value to the audience. If you missed the session, click here to listen in (and sorry, there are no leftover hamburgers or waffles but, if you look (or listen) close, Matt did send you some).
And, in the spirit of digitalization, we asked Microsoft Teams for a summary transcript of the call (below) which I've wordsmith to improve readability and remove some redundancy.
We discussed the importance of digital transformation and the role of technology in the HVACR industry. The discussion focused on how technology can be used to improve productivity, profitability, and scalability.
Digital transformation, AI, and the use of technology in the construction and industrial trades were discussed, including how technology can help automate businesses, save time and money, and provide customers with self-serve options.
A goal of technology for distributors should be the monetization of customer data. We discussed how technology can be used as a tool to drive business, increase productivity, and improve profitability.
Matt discussed the various products Microsoft offers and how they can be applied to the wholesale distribution industry. He also mentioned the hamburger and waffle menus, which are part of Microsoft's product offerings.
Matt talked about how Microsoft has invested in AI and how it is being infused into their products. He discussed the six areas where Microsoft brings solutions to their clients, which include Modern Work, Business Applications, and Security. He further discussed the recent explosion of ChatGPT and AI technology, which was made possible by Microsoft's investment in Open AI and the development of a supercomputer for AI. We discussed the use of AI in Microsoft products, such as integration, and enhancements, to MS Office, business applications, and the security suite. Matt shared how AI can be used to do real-time language translation, auto-fill columns in Excel, and generate code.
Matt talked about how AI technology can be used to automate customer service and sales processes. He discussed how Microsoft's Dynamics Sales CoPilot uses AI to read emails, look up customers in a CRM system, generate emails, and provide cross-sell and upsell opportunities.
He shared opportunities for AI and voice recognition technology in customer service and other industries and discussed how Nuance and Microsoft have developed solutions that allow customers to interact with support staff through AI and voice to text.
While a digital journey can be a BOAT, we discussed an "intelligent technology investment roadmap", assuming a company has an ERP system and a website already in place. Matt shared that investing in Microsoft Virtual Agents, a chatbot framework, could be no-brainer for manufacturers and distributors because of its customer service value. He highlighted that the use of Power Virtual Agents can provide customers with access to product information. This technology allows customers to access structured and unstructured data from a data source, as well as videos from product experts. An example that Matt shared touched on the potential of automating the process of gathering information from manufacturers and surfacing it to clients. He discussed the example of CarMax, which used Azure AI to process millions of reviews and summarize them into data that could be used by people.
Matt discussed the process of incorporating a subsidiary's business into a core business. He explained that customer insights, a part of the CRM suite, uses AI to compare customer data and create customer segments for marketing purposes.
An interesting topic was the frequent disconnect between strategy development / process improvement, understanding technology / digital capabilities and IT's role. While IT could be strategic, if it is aware of the organizational needs and can bring ideas to the table, frequently it is in an implementation role and hence reactive. The key with IT / digital management is "intellectual curiosity" and understanding the company's long-term integrated strategy. They also need to have an array of the right resources / connections to bring them ideas and software solutions, including how to pick the right VAR to support them.
We discussed the challenges of integrating technology into the business and the need for business leaders to understand the technology they are using and the potential cost of integrating new tools, and not using the tools. Matt emphasized that IT departments should not dictate user experiences, and that businesses should drive the business while IT provides the tools.
Matt and David discussed the process of selecting a Microsoft VAR (Value Added Reseller) to work with as of importance is finding the right people with the right philosophical thought process … thinkers versus solely IT implementers. Matt offered to be a filter for attendees. They can contact him, share their challenge and/or need and he can then guide them to the best VAR resources who understand "them" (distributors or manufacturers), the challenge and the right tools. He can also be part of "Envisioning" Events to craft solutions.
If you'd like to learn more about how Microsoft could help you envision new opportunities and functionality (and it can easily be a bolt-on to existing tools you have and hence leverage your existing ERP system), reach out to Matt via LinkedIn and he'll be glad to help or contact me and I can share his email / phone. And if you'd like a copy of my brief slides, let me know.
While Channel Marketing Group does not get involved in IT projects / software evaluation and similar, we have helped companies in setting their digital strategy / vision including evaluating their department, setting performance criteria, envisioning strategy, outlining eCommerce initiatives and similar … and sometimes guiding to a "narrower" list of solution providers. Our goal with this webinar, which was not paid for by Microsoft, was to share information for the good of the industry. I believe the "more you know …"
And again, to watch / share the webinar, click here.
Thank you, Matt, for your support to the industry and, on behalf of Matt and I, we hope the session brings value to you.