DCKAP, a technology company that simplifies digital commerce for distributors, recently released launched a new season of its Driven podcast show, which explores leaders' stories, digital journeys and insights on trends in distribution.
Kicking off the new season of Driven: Simplifying Commerce for Distributors is an in-depth conversation with Lisa Pope, President of Epicor, into the focus and strategy that drives her success.
Epicor equips businesses with enterprise solutions in the automotive, building supply, distribution, manufacturing, and retail industries.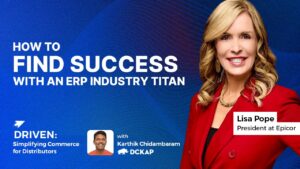 In this exclusive interview with Karthik Chidambaram, Founder & CEO of DCKAP, Pope shares her thoughts:
the challenges and opportunities facing distributors
post-pandemic changes and
the role of new technologies, such as AI and data analytics.
"Digital transformation and innovation are critical to the future of the distribution industry," said Pope. "I'm delighted to be part of the Driven podcast to share my insights on industry trends, leadership and developing teams."
Pope also discusses post-pandemic changes and trends in distribution, including infrastructure updates, supply chain challenges, consolidation, and the shortage of talented workers.
Before her role at Epicor, Pope's background included strategic leadership roles at Infor, QAD and Oracle, driving growth and the shift to SAAS.
Driven: Simplifying Commerce for Distributors is a podcast by DCKAP, a technology company with extensive experience in the distribution industry. With nearly 40 episodes, Driven features conversations with industry experts and tech leaders that reveal the secrets of their success, the processes that changed everything, and the most important lessons they learned while creating an impact with their digital business operations.
DCKAP's Integrator service syncs distributor eCommerce and ERP systems so that there is a single source of truth, ensuring real-time updates and accuracy for product availability, customer pricing and product information.
The company also offers a robust PIM platform to coordinate content distribution among ERP, eCommerce and other sales channels while also making the product content available for marketing applications. The PIM platform offers seamless integration with Epicor, Unilog, DDS, Trimble / Trade Service, Adobe Commerce, BigCommerce and more.
The 2023 season of the zpodcast is hosted by Karthik Chidambaram, founder, and CEO of DCKAP.  DCKAP is also an Epicor Influencer and supports many customers using Prophet 21 and Eclipse distribution software packages.
For information about DCKAP, ERP integration, product information management, and more, check out the DCKAP Distributor Blog.